Hello everyone! I am here to update my blog on the newest two videos I have uploaded.

Many people have requested me to do more hair tutorials and as a result, I filmed a very simple hair tutorial that was inspired by korean celebrities. Even though it is quite easy to do it creates an effortless look.

I believe this Rosebud braided hair look will be perfect for any occasion and the loose curls add the perfect romantic touch to the style.


The second video is an all time favorite beauty products video for the 2012 year. I usually do not record favorites videos because I tend to use the same products each month. I actually do not buy a lot of makeup products monthly.
The video will showcase my holy grails in term of makeup and skincare. These products are absolutely my favorites and I will definitely repurchase these items.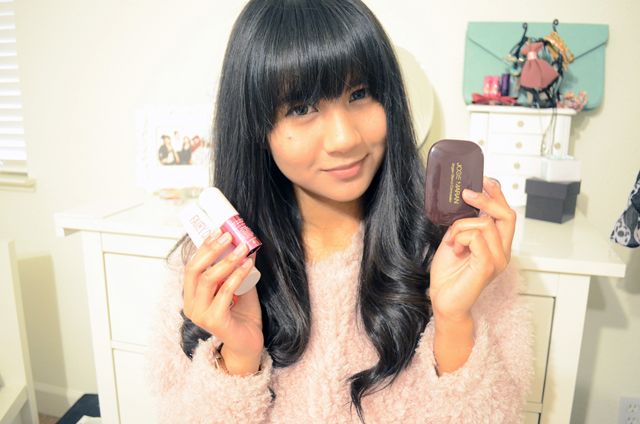 Products mention:
Makeup -
Fairy Drop Candy Bar BB Cream - Orche
(This is my all time favorite bb cream, it does not leave a grayish cast, which is a problem that many find with bb creams. As well as it does not contain any spf. I would recommend this bb cream for those who are a bit tanner and have been trying to find a bb cream that would match their warmer undertones. I absolutely love this!)
Makeup Forever Mat Velvet Foundation - 40
Josie Maran Argan Blend Concealer - Suede
Maybelline Dream Matte Powder - Honey
Dolly Wink Liquid Eyeliner - Black
Lioele Auto Eyebrow - #3 Gray Black
The Face Shop Eyeshadow - WH003 (Glitter)
The Face Shop Blush - OR201
The Face Shop Blush - PK102
Etude House Blush - #1 Pink Cookie
Etude House Fresh Cherry Tint
The Face Shop Lovely ME:EX Milky Tint - #1 Baby Pink
The Face Shop Semi Matte Lipstick - OR201
Peripera Lipstick - 01 Rose Pink
Skincare -
Naruko Oil Out Clay Cleanser
Naruko Oil Out Toner
Naruko Oil Out Balancing Serum
Naruko Oil Out Night Gelly
Vitacreme B12 Vita Blanc