Happy New Year everyone! I hoped everyone's holiday was amazing and relaxing. For those who didn't know, I was on a little vacation in LA for 2 weeks. If you are subscribed to my youtube channel you may have notice the recent videos were all recorded in the LA area.

I have a lot to blog about, but I am afraid I cannot fit all I did in one blog post. As a result, I will be doing multiple blog posts with photos as well as details about my trip!

The first thing I will be talking about is my little visit to Santa Monica. My friend and I decided to first meet up at Urth Caffe to grab a bite to each before we head down to the 3rd Street Promenade.

Urth Caffe is a place that serves organic coffee, tea, boba, sandwiches, soups and much more! As I arrived to the location the first thing I notice was the exterior of this place. It looked lovely, but my eyes quickly focused on how packed it was. I am sorry I didn't take any photos of the location, but if you yelp it you will definite see pictures.

I ordered a chicken sandwich (but was given a veggie sandwich, that proves to me I need to learn to speak up!) and a green tea latte. Even though I am not a fan of an all vegetable sandwich, it was delicious. As for the green tea latte it just tasted so clean and not too sweet. I will definitely go there again one day! My friend said to try out their boba next time, it is apparently to die for! There are a few locations all around the LA area, so check out yelp to see if one is near you. :]




After lunch, we decided our next stop was the Santa Monica 3rd Street Promenade. For those who do not know what it is, it is basically a huge strip of stores and restaurants. It has become one of my favorite places to shop at whenever I am in LA. The atmosphere is lively and just exciting.




I actually recorded a vlog of my visit to the 3rd street Promenade! If you haven't seen it please do check it out.


Now afterwards, I bid farewell to my friend (she will also be in another blog post) and decided to head to k-town with my boyfriend to grab Kyochon (a korean fast food fried chicken joint) and as well as relax at a cafe called Cafe Storygarden.
I ordered an iced green tea latte and a yogurt strawberry cake. The green tea wasn't very sweet it was a bit bland for my taste. However, the yogurt strawberry cake was absolutely delicious.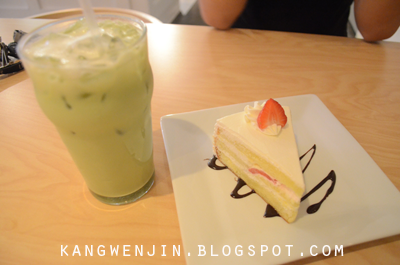 The interior of the cafe was extremely cute. All the chairs were mixed matched and the color of the interior was mainly white and beige. It had my name all over it.
Wow, that was a blog post! I am writing this at 12:30AM and I have to wake up earlier tomorrow for my internship. I know for a fact I will not be able to sleep until much later!
Well, this is all for now. I do hope you enjoy reading this post. I will try to update as soon as I can!
Have a wonderful weekend!
Love,
Wenjin