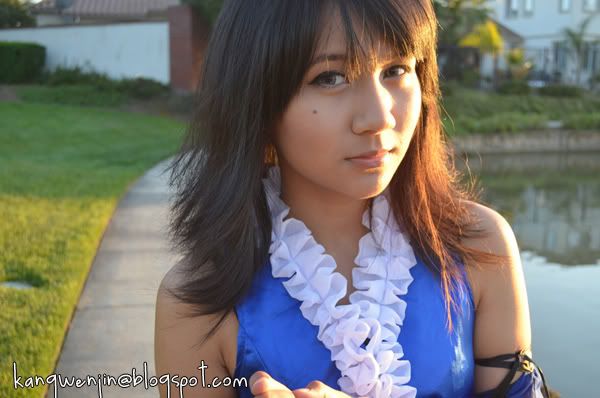 So judging from the title of this post, you may notice I did a tutorial on how to be Yuna from Final Fantasy X-2. I used to play Final Fantasy, but wasn't very good at the game (from what I remember). I always preferred the game play in Kingdom Hearts over Final Fantasy. However, I do know that there are a lot of memories from playing this game and it brings a sense of nostalgia for many.

The reason I decided to do a tutorial on her look was because one I had this costume for around 2 years and second she is overall a great person to cosplay as! I know this tutorial is late for Halloween, but I think this tutorial can help you get ready for Anime Conversions.

I know Yuna has blue and green eyes. However, I do not have blue or green lenses and I decided to substitute the lenses for my grey ones instead.

I think this look is quite suitable for everyday minus the lashes of course! It isn't too dramatic and it really gives off that innocent appearance.



I do hope you find the tutorial useful and interesting! I tried my best to film and edit this video as fast as I could with my busy school schedule. I hope you find my efforts in this video worth it.


Products:
Skinfood Red Orange Jelly BB Cream
ZA Two-Way Foundation
Etude House Proof 10 Eyelid Primer
1 Day Tattoo Black Eyeliner
88 Eyeshadow Palette (Brown)
NYX Eye Pencil in White
NYX Jumbo Pencil in Cottage Cheese
Daiso False Eyelashes in 02
Dolly Wink Eyelash Glue
Dolly Wink Volume Mascara
Rimmel Lipstick in Airy Fairy
Milani Mineral Blush in Luminous

Costume from Ebay: I forgot the seller's name since this costume was from around 2 years back.
Boots: Target (I wear them all a daily basis!)




Continue Reading...