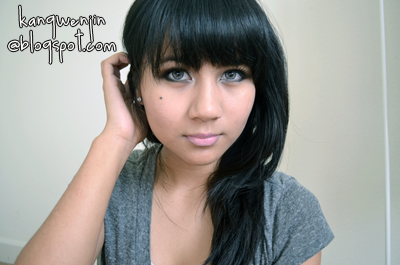 I was inspired by Narsha of the korean group, Brown Eyed Girls. Now this look isn't a specific look she wore, but more of a mixture of all the looks I have seen her in. I think she would sport this on stage.

This makeup look is quite dramatic, especially for me since I am a person that doesn't normally wear eyeshadow or false eyelashes. So, this look took awhile to get use to. I really like the way it emphasizes the eyes. I think this is a good look for those with hooded eyelids because the shadow above the crease helps to show color on your eyes (if you only apply eyeshadow to your lids when you open your eyes you barely can even see it!). Also the colors are quite neutral, but they really make a statement.

I do hope you will find the tutorial useful, even though I did make a few mistakes (which I noted in the video and also the description section of the video)

Products List:
Etude House Proof 10 Eyelid Primer
88 Eyeshadow Palette
Dolly Wink Eyeshadow Quad: Brown (01)
K-Palette 1 Day Black Liquid Liner
PA False Eyelashes
Milani Liquidfye Pencil Eyeliner
NYX Jumbo Eye Pencil in Cottage Cheese
Etude House Cookie Blush in Pink Cookie
Etude House Lipstick in You Say Pink
The Face Shop Super Shine Gloss in PK104
Contacts: Neo Glamour Grays
Continue Reading...