A number of individuals have asked me to make a review on the Dolly Wink Eyeshadow quad and here it is!

I actually made a video for this review, but I wasn't very happy with the video. So I decided just to screen shot images from the video to use as a review about this product on my blog instead!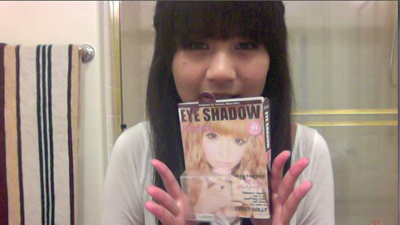 This eyeshadow quad is from the japanese brand Koji. It is from the Dolly Wink line which was co-produced w/ the famous Japanese model Tsuabsa Masuwaka. I honestly have been wanting to try Dolly Wink for a really long time. I am so happy I was able to get my hands on some Dolly Wink products awhile back. The packaging is really adorable. Once you open it, it gives you a guide on how to use the eyeshadows as well as a few photos of Tsubasa modeling the eyeshadow quad.



This is how the eyeshadow quad looks like. It is made of a black shinny plastic. it is quite small, It fits in the palm of my hand. I love the details on the front. It has hearts and a few swirls going around it. I like the fact it is simple, but has a bit of girly action going on to it. Other might fan this packaging to childish. However, I like it.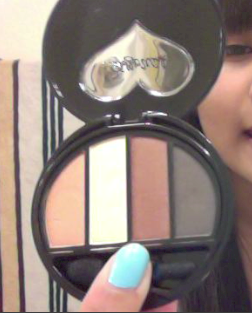 This is how the quad will look like once you open it. It does not have a mirror. It comes with 4 eyeshadows and a double sided sponge tip applicators. I know a number of people are not a fan of the sponge tip applicators, but I find them great for quick looks and traveling.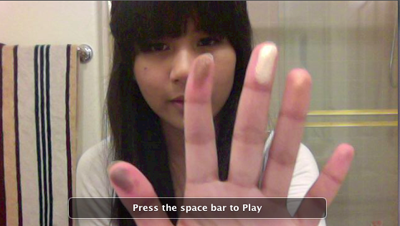 Now it is time for the swatches! This is the swatches of the eyeshadows on my finger tips. Okay, first of I would like to say I honestly do not wear eyeshadow unless it is for make up tutorials. I just never really liked eyeshadows that much. It is nice to have but I just don't find it useful for myself. However, I gave into buying the product due to the packaging and I wanted to try a neutral eyeshadow palette. (I have already used this eyeshadow palette in a tutorial "dolly look" check it out!)
So instantly I realize these eyeshadows are highly pigmented! By the way, this is a drug store brand...a very pricey one sadly. Anyways, I must say these eyeshadows are really soft, smooth and not powdery. A lot of eyeshadows from drug stores tend be have a very chalky feeling. Often the eyeshadows contain too much glitter. This palette has shimmers (which is popular in Asian make up in general) but not chunks of glitter which I like.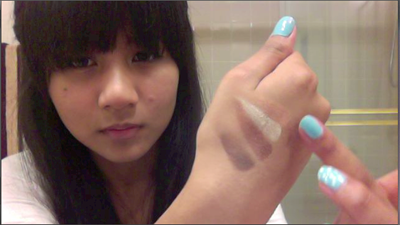 As for blending quality. I think these eyeshadows blend like a charm. I used these eyeshadows to make a nice neutral smokey eye. It honestly was so easy to do and I didn't have to do much work with my brush.

For my overall opinion, I honestly think this eyeshadow palette from Dolly Wink is amazing (coming from a person that dislike eyeshadows in general). The packaging sadly sucked me in. Which is a bad thing since I shouldn't buy things for the packaging but the quality of the product. Also, I am not a fan of the price (I believe i got it for $18.99?) I know online it may be a lot more/less expensive. However, if you are willing to spend a bit of money maybe you should check this product out. But, I think you can probably find cheaper alternatives instead of dishing out the money for this quad.

I hope you find this review informative, if you have any questions feel free to leave a comment down below or contact me via. twitter!