I would like to first apologize that I have not done a make up tutorial in such a long time. I am not a pro at all with make up, but I thought that my tutorials will be great for beginners.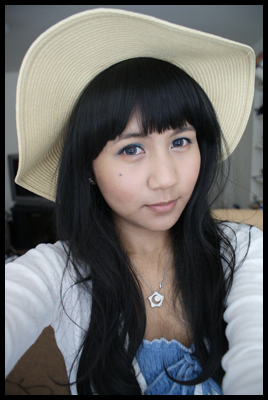 This make up look is for the upcoming summer season. I was inspired by the make up looks I have seen in a number of different korean and japanese magazines. I obviously have a different face than those of the models on there. So, I tried my best to do a look that would fit my eyelids and face a lot better.

I recommended to use a make up base and sunscreen prior to applying any make up. The reason for the make up base is because it will help to keep your make up stay on longer throughout the day and also go on much smoother. As for sunscreen, it is summer! The uva/uvb rays are going to seriously attack your skin and you need as much protection as you can get (without protection you can get sun damage/pre-mature wrinkles~).

As for your base make up, I recommend using either bb cream, tinted moisturizer, or a light foundation. During summer, the heat may cause your make up to slide right off, if you are wearing heavy foundation. That is why I recommend a more lighter alternative. This will help your skin to still look great and without the worries of it possibly melting right off due to the heat. :] YAY!

Now onto the eyeshadows, I used a light blue all over the lids. I extended the color a bit pass my lash line and this will help to show the color more especially if you have hooded eyelids like me. It also will give a bit of length to your eyes. The next color, is a navy blue/dark blue and you will apply this near the crease or where you feel your eyeball socket. I lightly line the shape of my eyeball and blend it. I try to not go pass my crease because going back to the issue with my eyelids it will help to keep the color concentrated (visible). The last eyeshadow I used is orange. Orange and blue are complementary colors (color wheel) and I apply the color on the bottom outer corner of my lash line. This will help to create a overall balance look. It help to create appeal to your eyes as well. Finally, apply a shimmer white eyeshadow/pencil to the inner corners of your eyes (this is popular in asian make up looks) and this will help brighten/open up your eyes.


The last finishing touches are mascara (I recommend using a waterproof one so it won't smudge!), an orange blush (this will be great for summer since it will give you a summer glow) and finally nude lips (due to the bright colors from the eyeshadow this will help balance the whole look).

Products:
Prep~
Vitacreme B12: Regenerative Cream
Neutrogena Ultra Sheer Liquid Daily Sunscreen SPF 70

Face~
Dr.Young 2p BB Cream
Hard Candy Glamoflauge Concealer
NYX Mosaic Powder Blush in Love

Eyes~
Too Face Shadow Insurance
88 Eyeshadow Palette
L'oreal Lineur Intense in Carbon Black
Taiwanese Eye shimmer Stick in White
Blinc Mascara in Black

Lips~
Mac Lipstick in High Tea
Revlon Lipgloss in Peach Petal




Now moving on to the outfit.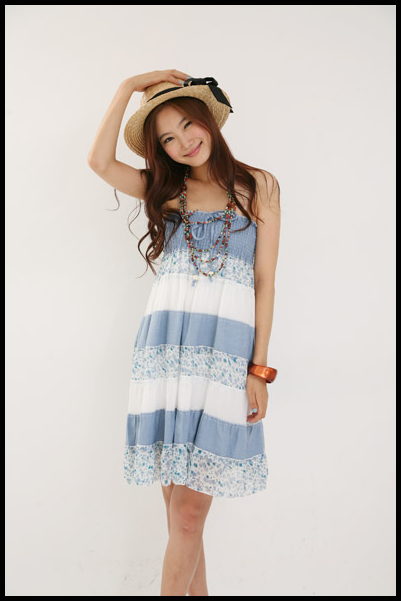 (stock photo of the dress)



I bought the dress from gmarket because I thought it would be great for summer. it is light weight and the colors I think are perfect. The sandals were also from gmarket and I thought they would be great to wear during summer.

I always wanted a floppy hat and found a great one at Target (You got to love target)!! A hat is a great way to shade your face and body from the unbearable heat!

As for accessories, I kept it simple with just some studs, a simple necklace, and a bag that would match with the dress.


Anyways, sorry for this long post! I wanted to give you guys as much information I can. I do hope you like the tutorial as well as the outfit of the day.

Thank you for reading!

-Wenjin


Disclaimer: All items were purchased by me. Besides the Blinc mascara that was a present. ^^