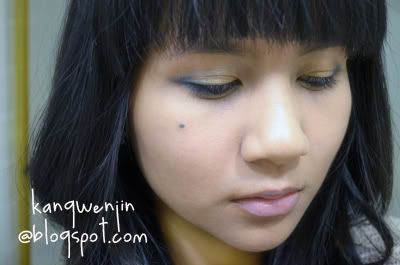 As you can see from the title this makeup look was inspired by the lovely Kim Hyuna of the korean girl group, 4Minute. More specially this look was from the music video "Troublemaker" with her and Hyunseung of Beast, a korean boy group.

I would say the song troublemaker gives off a very powerful and sexy vibe. Every time the song plays I always have an urge to walk more confidently. Is that strange? (All I know is I am going to be singing this song at noraebang during winter break! ;D)

I thought Hyuna looked extremely sexy and gorgeous in the video! She is definitely one of my favorite current korean idols. It is not just her looks, but her adorable personality that makes her so likable.

In this makeup tutorial I am using the Urban Decay Naked Palette. I just recently bought it and so far I really am loving it (this is quite shocking I think coming from me since I don't normally wear eyeshadows). I think it will be great for those night outs and future tutorials. I will be doing a blog post about it soon.


Makeup Tutorial

Troublemaker Music Video:


Products Used:
Urban Decay Naked Palette
Milani Liquidfye Eyeliner in Black
Physicians Formula 2n1 Boost Liquid Eyeliner
Dolly Wink Volume Mascara
Mac Lipstick in Angel
Sephora Light Pink Lipgloss (Got it in those b-day sets they give you)

I do hope that many of you will find this tutorial helpful and interesting. I would like to apologize that I didn't do a voice over. If I did do a voice over, this video wouldn't have been uploaded until the weekend.

Please have a great weekend loves! <3

Continue Reading...