Yes Style is a store that is located in San Francisco, that specializes in selling clothing/accessories from Korea, Japan, China, and other Asian countries.

First off Yes Style has a store location of the website known as yesstyle.com. They only have one Yes Style store at the moment, which is the one located in San Francisco.

I went to San Francisco on Saturday, mainly to celebrate my birthday which I was unable to do during the weekday. I decided to go to Yes Style that day since I have been dying to visit that store for a very long time. I have heard from a friend as well as online sources that the store was small and selections were limited. With those thoughts in mind, I kept on delaying my visit to Yes Style. I have also read the prices for Yes Style was extremely high and I can't afford very high price items.

As I arrived at the store, I realize many were right the store was small. So, I wasn't expecting much. The store was organize and clean which is always a plus. It was divided one side for girls one side for guys. Immediately I went and looked through the clothes and I was impress. I wish they had more selections, but I was quite impress with what they have. Prices were quite reasonable, around the same price as H&M. It seems almost everything goes on sale.

I ended up only getting two items, which two of my friends decided to actually buy for me as gifts for my birthday. (THANK YOU GUYS!! <3) The style of the clothes remind me of VIVI Fashion magazine. I am not really a big fan of Japanese fashion, but for some reason these style just scream them out. I really like them though and I am very glad I now have them in my closet.

I would like to add they also sell accessories (belts, bags, backpacks), headphones (the mix kind), and even posters of your favorite korean group!

Overall, I really recommend the store, it seems a lot more affordable than the website. If you are really trying to find a place online to shop for Asian style clothing, I suggest a different website, since I find Yesstyle.com over price. However, the store itself I find more affordable.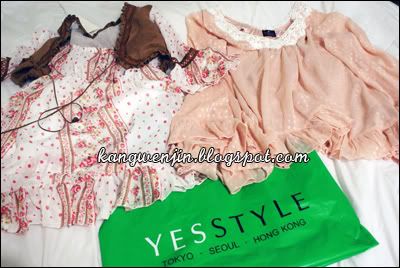 Continue Reading...